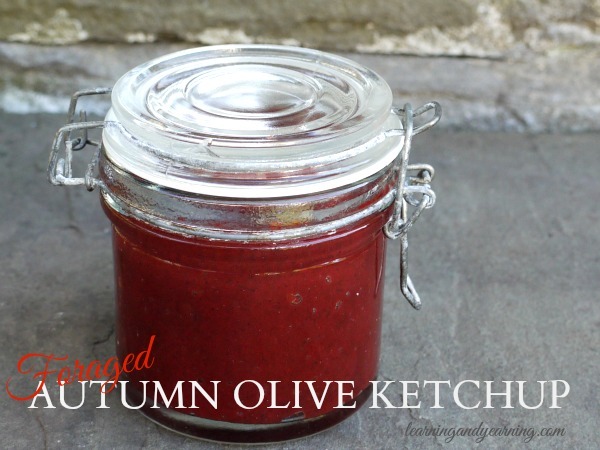 If you live in the eastern half of the United States, or a few northwestern states, it's more than likely that you have autumn olive berries growing in your area. (Find a range map here). It's just as likely you've never heard of them.
That's really a shame, since they are tasty, so easy to harvest, and abundant. They also make great jam, fruit leather, and ketchup. Yes, autumn olive ketchup!
DISCLOSURE: In order for me to pay my blogging expenses, I may receive monetary compensation for my endorsement and/or link to products mentioned on this blog. I am a participant in the Amazon Services LLC Associates Program, an affiliate advertising program designed to provide a means to earn fees by linking to Amazon.com and affiliated sites.
Native to Asia, Elaeagnus umbellata was brought to the U.S. and planted for erosion control and to provide wildlife habitat. Autumn olive spreads easily and is now considered an invasive species.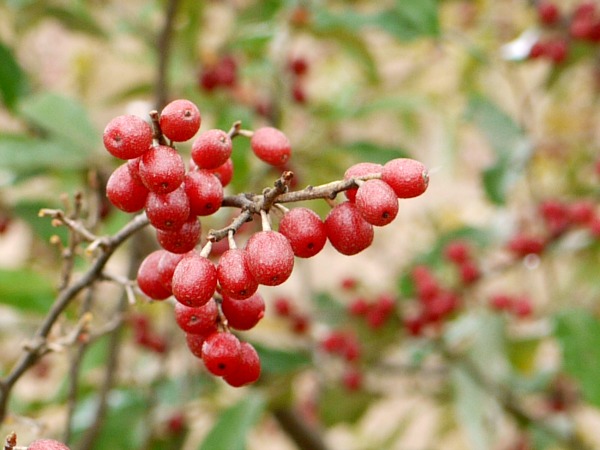 Also known as silverberry or autumnberry, the autumn olive berries ripen in September and October. Its leaves are leathery with a silvery underside, and alternate on the branch. The berry is red and resembles a cranberry. It contains one seed and is covered with silver speckles, a distinguishing feature.
The berries are tart, but if they are quite astringent, they are still underripe. When fully ripe, they detach quite easily from the bush, which can grow up to 20 feet tall and just as wide.
Here's Mike showing how easy the berries are to harvest:
I've heard some say that they enjoy eating the autumn olive raw, seed and all. I prefer using a food mill to remove the seed, and adding the puree to smoothies, or using it for other recipes. Like autumn olive ketchup.
My Squeezo Strainer makes quick work of pureeing lots of raw berries. I run the seeds and skin through the mill a second time to get quite a bit more thick puree.
I have to cook the berries first before they will run through my Foley Food Mill, but it does a nice job of removing the seed as well.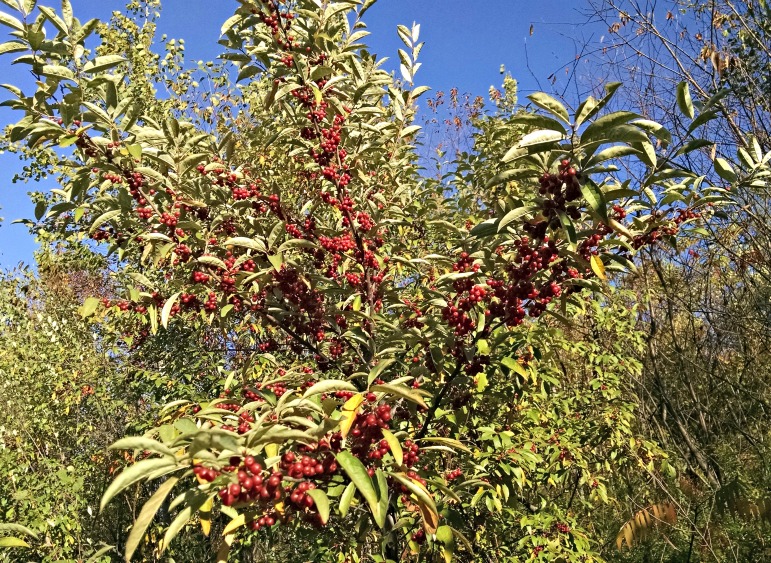 More Than Weeds
A Foraging eCourse for Beginners
Are you interested in foraging, but a bit hesitant because you don't trust your own abilities? I created a mini eCourse just for you. In More Than Weeds: 5 Common Plants to Forage for Food and Medicine you'll learn that identifying plants is all in the details.
Using common plants with which may be someone familiar you'll learn beginner botany skills that you will be able to use as you move forward. You'll gain confidence to use these plants for your family in food and safe, home remedies. Get started now!
Autumn Olive Ketchup
Print recipe
Ingredients
4 cups autumn olive berry puree
1/2 onion
1/2 teaspoon whole peppercorns
1/2 teaspoon whole mustard seed
1/2 teaspoon whole allspice berries
1/2 stick cinnamon
1/8 teaspoon whole cloves
1 1/2 teaspoon sea salt
2 tablespoons apple cider vinegar
1/2 cup maple syrup
Note
Yields approximately 2 cups of ketchup.
Directions
| | |
| --- | --- |
| 1. | To make autumn olive puree, choose one of the following methods. 1. Put raw berries through a Squeezo Strainer, or 2. Gently simmer berries with a small amount of water until soft. Put through a Foley Food Mill. |
| 2. | For every 4 cups of puree, use the items and amounts in the ingredient list. |
| 3. | Place autumn olive puree in a crockpot with no lid and gently simmer until reduced by half. |
| 4. | Tie onion and spices in a spice bag. Add to the puree, along with the sea salt, vinegar, and maple syrup. |
| 5. | Continue cooking until thick. |
More Fall Foraging Posts You'll Love
How to Harvest and Crack Black Walnuts
Hunter's Pie with Jerusalem Artichoke
Make Your Own Lacto-Fermented Grape Juice from Wild Grapes
Make Your Own Apple Sugar from Wild Apples
Thank you for visiting Learning And Yearning. May "the LORD bless you and keep you; the LORD make his face shine upon you and be gracious to you; the LORD turn his face toward you and give you peace." Num 6:24-26