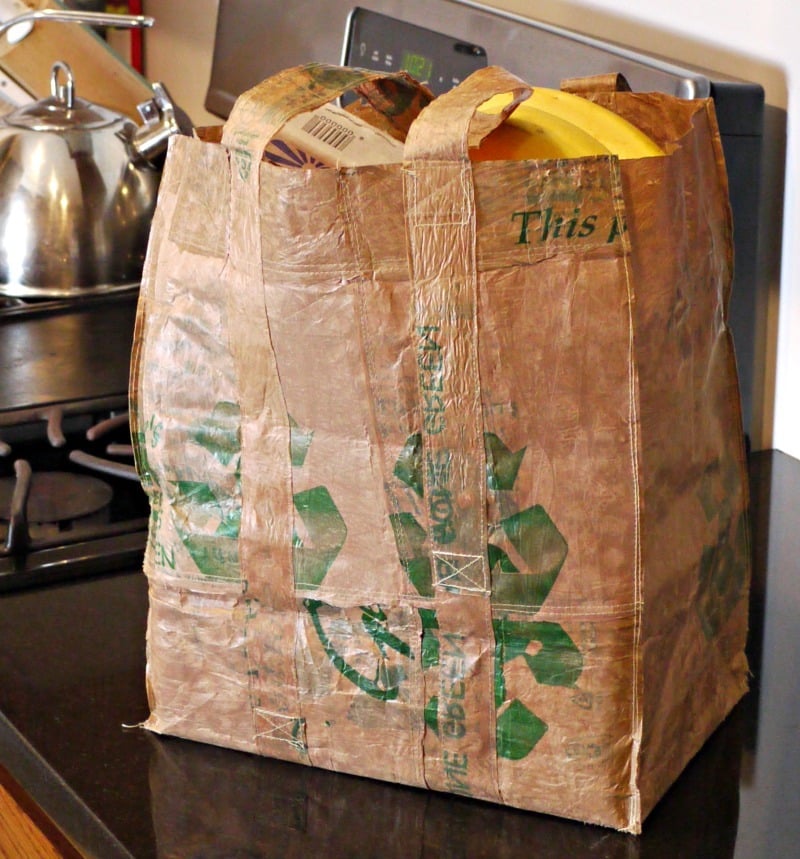 I take reusable grocery bags with me when I shop, so why does that pile of plastic bags behind my kitchen trash continue to grow?  I'm convinced they breed like rabbits.  So I recently did some research on reusing bags and came up with a fun project with fused plastic fabric.

How To Fuse Plastic Bags to Make Fabric
Supplies
DISCLOSURE: In order for me to pay my blogging expenses, I may receive monetary compensation for my endorsement and/or link to products mentioned on this blog. As an Amazon Associate I earn from qualifying purchases.
plastic grocery bags
several sheets of large plain paper
iron heated to rayon/polyester setting
ironing board
Directions
Cut the handles and the bottom off of a plastic bag to make the bag square or rectangular. Turn it inside out if the bag has ink on it. Now fold your bag in half, and then in half again. Smooth to remove all air bubbles.
Lay a large sheet of paper down on your ironing board.
Place the folded plastic bag on top of the paper on your ironing board, and cover it with another sheet of paper. Be sure that paper is underneath and on top of all surfaces of your plastic bag.
Heat the iron to rayon/polyester setting. When heated, iron the paper for 15 – 20 seconds, keeping your iron moving at all times.
Turn over, and iron the bottom side of the plastic (still covered with paper) for 15 – 20 seconds, again keeping your iron moving at all times.
Now peel back the paper. If there are air bubbles, repeat the procedure, ironing both sides of the plastic.
Continue making plastic squares which will be sewn together to create your reusable grocery bag.
The process takes practice; don't be discouraged if your first try is less than perfect. Once you get the feel for this, you will be making beautiful fused plastic fabric for homemade reusable grocery bags.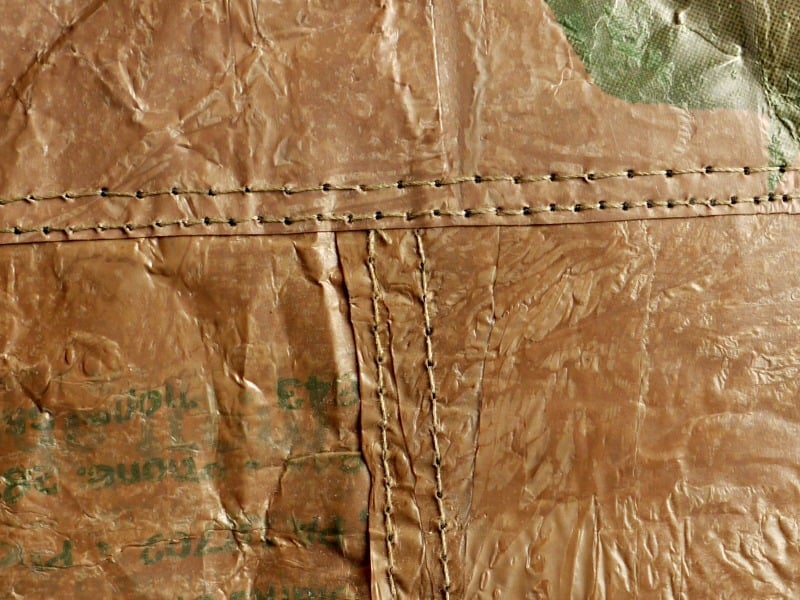 Using one of my cloth grocery bags as a template, I made a pattern out of newspaper and sewed my plastic fabric into a new eco friendly bag.  This tote bag has the look and feel of leather!  I get asked how I made it almost every time I shop.
Making the Reusable Grocery Bags From Fused Plastic
To make a pattern like mine, cut according to the diagram below using newspaper, or other large paper.
Sew your plastic pieces together so that they are a size similar to the pattern. Pin the pattern to your fused plastic fabric and cut.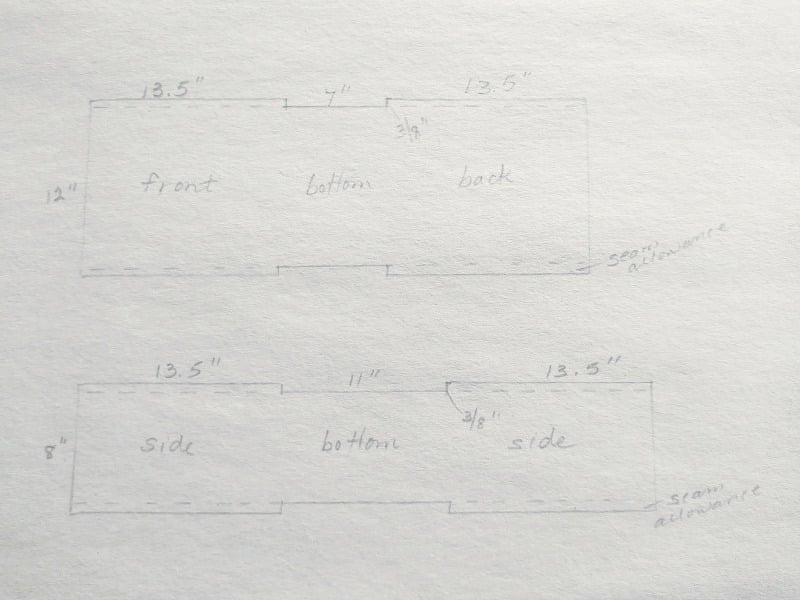 The handles on my bag are also used as straps to reinforce the tote bag, so I cut a lot of handle material. No, I'm not much of an artist, but the illustration below shows how I stitched the handle down the sides and across the bottom of the bag to give it strength. My handles are 1.25″ wide. I cut approximately 8′ of handle for the bag.
To assemble the bag, lay the bottom of the side section perpendicular on top of the bottom of the front/back section. Stitch together.
Next, sew on the handle/reinforcements straps as in the illustration.
Finally, sew together all of the side seams. All of the seams are on the outside of the bag, not on the inside as with most sewing projects.
And you've now completed your homemade reusable shopping bag.
I've been using the bag frequently for months and it is holding up well.  If you search http://www.youtube.com there are many ideas for projects using the fused plastic.
Thank you for visiting Learning And Yearning. May "the LORD bless you and keep you; the LORD make his face shine upon you and be gracious to you; the LORD turn his face toward you and give you peace." Num 6:24-26