If I had to name one food that most reminds me of my childhood, it would have to be wild blueberries. Growing up, we spent every summer at a mountain lake, and that mountain was covered in blueberries.
We would run out to the yard in the morning to pick just enough berries for mom to use in blueberry pancakes. And blueberry pie and blueberry buckle were frequent desserts.
That mountain home is still in our family and blueberries are still a yearly treat.
Blueberries are Simply the Best
Mike is king when it comes to picking blueberries. He'll spend hours and hours filling his buckets. I'm only good for a quart or two, but I clean the berries and I'm the pie baker, syrup maker, jam canner, and blueberry fermenter. Sounds like a fair division of labor, right?
I'm madly in love with pie, but I also like berries to top my homemade yogurt and soaked oatmeal in the morning. All the better if those berries add a probiotic boost to my diet, and lacto-fermented blueberries are just the way to do that.
Fermenting Fruit and Berries
Fermenting fruit is a little more challenging than fermenting vegetables. Because of its high sugar content, fruit ferments much more quickly than vegetables, and can quickly turn to alcohol. Using whey helps to steer fruit towards lacto-fermentation, rather than an alcohol ferment. In addition, a short fermentation period is used. While I've had fermented vegetables last an entire year, fruit is kept preserved for only a few weeks in the refrigerator.
I make my whey from my homemade yogurt. Store bought yogurt may be used as long as it contains viable cultures. Simply strain plain yogurt through a coffee filter. The resulting liquid is whey. What's left in the filter is a nice thick Greek-style yogurt.
Ingredients
2

cups

blueberries

2

tablespoons

maple syrup or organic sugar

2

tablespoons

whey

1/4

teaspoon

sea salt

chlorine-free water
Instructions
Mix together berries, maple syrup or sugar, whey and sea salt.

Pack berry mixture into a 2 cup wide mouth canning jar or Fido jar. Lightly press down on the berries get them to fit in the jar being sure to leave at least 1" of headspace.

Add water to cover the berries completely.

Place a glass fermentation weight, or a small, tightly closed plastic bag of water on top of the berries to keep the berries submerged.

Place the lid in place and leave to ferment at room temperature for 24 hours.

Refrigerate, and use within 2 - 3 weeks.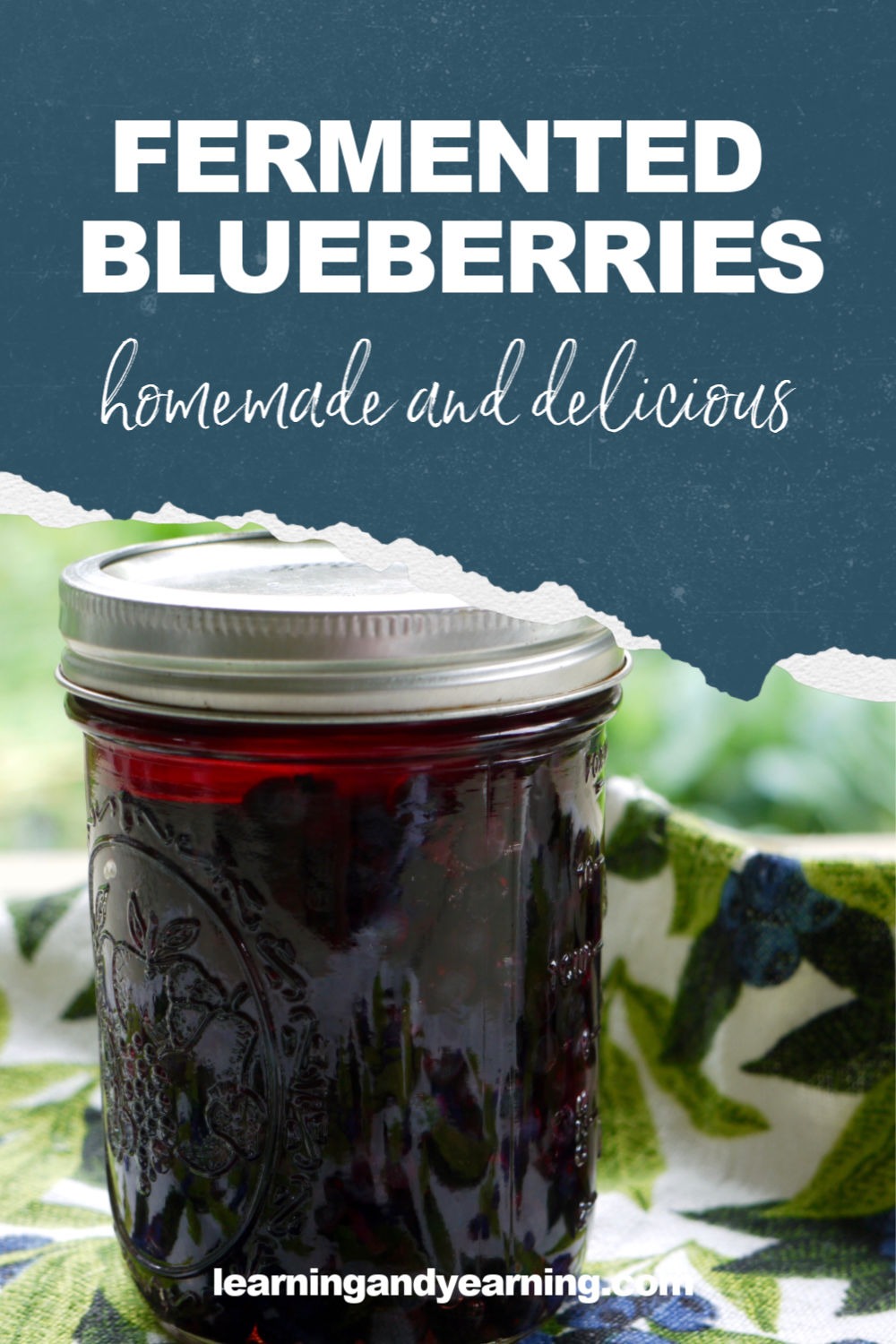 Thank you for visiting Learning And Yearning. May "the LORD bless you and keep you; the LORD make his face shine upon you and be gracious to you; the LORD turn his face toward you and give you peace." Num 6:24-26