Strawberry pickin' time. Possibly the most wonderful time of the year. Well, next to blueberry picking time, that is.
We had a friend who had a tradition of making strawberry shortcake for dinner every year after picking strawberries. Oh yeah, we adopted that tradition without hesitation.
DISCLOSURE: In order for me to pay my blogging expenses, I may receive monetary compensation for my endorsement and/or link to products mentioned on this blog. I am a participant in the Amazon Services LLC Associates Program, an affiliate advertising program designed to provide a means to earn fees by linking to Amazon.com and affiliated sites.
It's been years, though, since we've done that. The kids grow up, and some traditions are forgotten. But when I went strawberry picking the other day, I decided it was time to renew the tradition. We had strawberry shortcake for dinner, and again for dessert!
Fresh Strawberry Pie
There are so many great recipes for strawberries, aren't there? Strawberry jam, strawberry-rhubarb pie, strawberry shortcake, and one of my all time favorites, fresh strawberry pie.
Fresh strawberry pie is great when the weather is hot, too, since the oven is only on for a short ten minutes to bake the crust.
And hey, when you're preparing the pie, don't throw away those strawberry tops, because My Homestead Life has 5 great uses for them!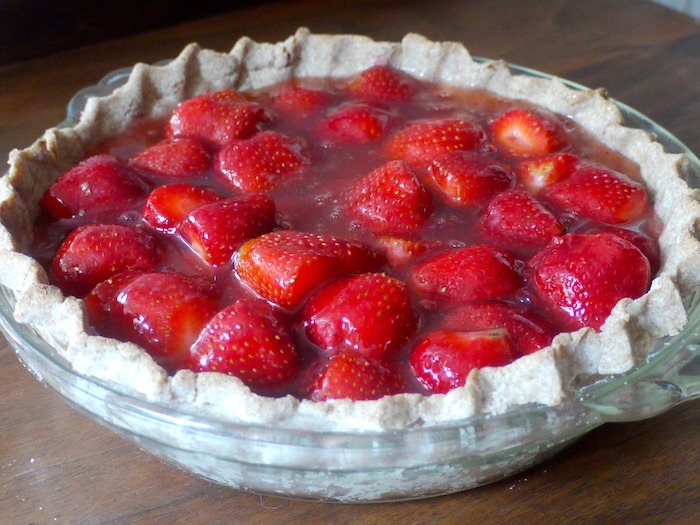 What are some of your favorite ways to use fresh strawberries?
Baked 9″ Sprouted Wheat Pie Crust
Print recipe
Ingredients
1/3 cup plus 1 tablespoon butter
1 cup sprouted wheat flour
1/4 teaspoon sea salt
2 - 3 tablespoons cold water
Directions
| | |
| --- | --- |
| 1. | Cut butter into flour and salt until the butter is the size of peas. |
| 2. | Sprinkle in water, 1 tablespoon at a time. |
| 3. | Mix with a fork until the flour is moist and it forms a ball. Do not over mix. |
| 4. | Roll out on a lightly floured counter. Place in 9" pie plate. |
| 5. | Trim extra pastry, and flute the edges. |
| 6. | Heat oven to 475°. Prick the bottom and sides of the pastry with a fork. |
| 7. | Bake 8 - 10 minutes until light brown. Cool. |
Fresh Strawberry Pie
Print recipe
Ingredients
1 baked 9 inch pie crust (recipe above)
3 1/2 cups fresh strawberries
1 1/4 cup water
1/2 cup honey
3 tablespoons arrowroot powder
4 tablespoons water
1/16 teaspoon sea salt
1 tablespoon lemon juice
Directions
| | |
| --- | --- |
| 1. | Bring 1/2 cup of strawberries and 1 1/4 cup of water to a boil. Mash strawberries; strain. |
| 2. | Dissolve 3 tablespoons of arrowroot powder in 4 tablespoons of water. |
| 3. | Add honey, arrowroot dissolved in water, and salt to the strained strawberry liquid. |
| 4. | Cook over medium heat until thickened and clear. |
| 5. | Cool slightly. |
| 6. | Add remaining strawberries and lemon juice. |
| 7. | Pour into thoroughly cooled baked pie crust. Chill. |
Thank you for visiting Learning And Yearning. May "the LORD bless you and keep you; the LORD make his face shine upon you and be gracious to you; the LORD turn his face toward you and give you peace." Num 6:24-26