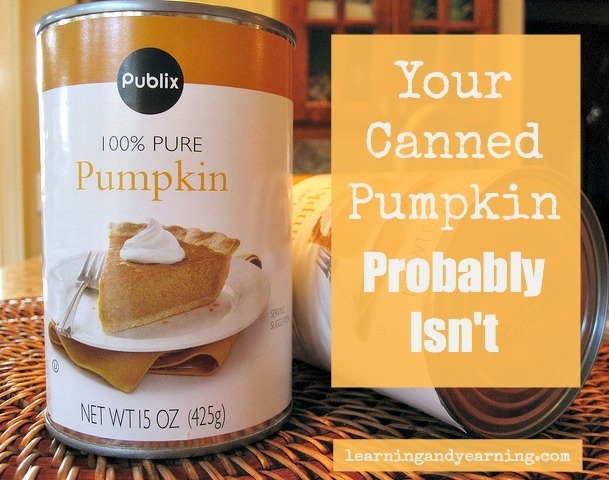 Pumpkin pie. Pumpkin roll. Pumpkin cookies, bread, and squares! oh my! Don't you love seasonal eating? It makes those treats so much more special. A lot of baking gets done this time of year and as the busy holiday season gets closer, many people reach for canned pumpkin to save time.
I often use winter squash, like acorn or butternut, when I bake "pumpkin" treats, and this surprises people. Squash pie just doesn't sound as appetizing, I guess. But when you buy canned pumpkin at the market, you are just as likely to be purchasing winter squash as pumpkin, even though the can is clearly labeled "pumpkin".
All winter squash are not pumpkin, but all pumpkin are winter squash. They are, indeed, very closely related botanically. (And just to confuse things, in some parts of the world, all winter squash is called pumpkin).
 According to About.com:
There are four species of winter squash – curbita pepo (acorn, spaghetti and others), cucurbita moschata (calabaza and others), cucurbita mixta (butternut and others), and cucurbita maxima (hubbard, turban, banana and others) with pumpkin varieties in all of them.
I know that I was a bit surprised when a local pumpkin farmer first told me that most canned pumpkin is actually squash. And when I mentioned this recently on facebook, a reader found my statement difficult to believe. I directed her to the FDA Compliance Policy Guide which says that pumpkin and squash are sometimes mixed intentionally to obtain a desirable consistency, and that the designation "pumpkin" is considered in compliance with regulations even when the contents contain squash, or a mixture of squash and pumpkin.
So, what do you think? Should the label be more specific about the contents? 
Thank you for visiting Learning And Yearning. May "the LORD bless you and keep you; the LORD make his face shine upon you and be gracious to you; the LORD turn his face toward you and give you peace." Num 6:24-26