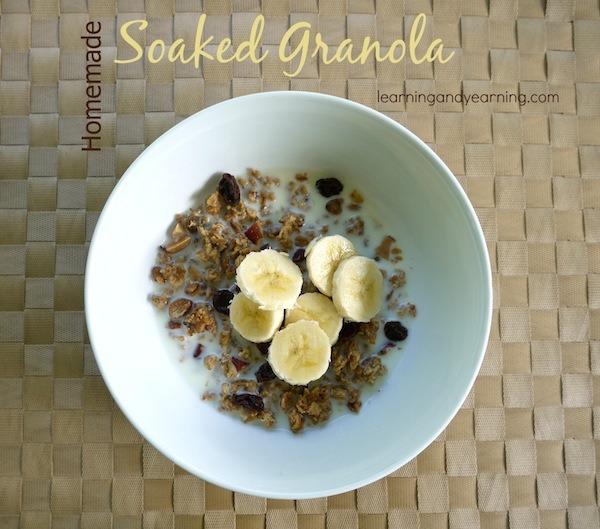 Why Soak Granola
I love granola. I've been known to eat it for dinner.
I used to make the stuff by the gallon. But that love affair ended a while back because, after reading the book Nourishing Traditions I knew I didn't want to eat grains that weren't properly prepared. And the oats in granola were definitely not soaked or fermented. Which is why granola can be so hard to digest.
DISCLOSURE: In order for me to pay my blogging expenses, I may receive monetary compensation for my endorsement and/or link to products mentioned on this blog. As an Amazon Associate I earn from qualifying purchases.
Here's what the author, Sally Fallon has to say:
All grains contain phytic acid in the outer layer or bran. Untreated phytic acid can combine with calcium, magnesium, copper, iron and especially zinc in the intestinal tract and block their absorption. This is why a diet high in unfermented whole grains may lead to serious mineral deficiencies and bone loss. The modern misguided practice of consuming large amounts of unprocessed bran often improves colon transit time at first but may lead to irritable bowel syndrome and, in the long term, many other adverse effects. Soaking allows enzymes, lactobacilli and other helpful organisms to break down and neutralize phytic acid.
Bummer.
But along came Shaye Elliott and her gorgeous cookbook, From Scratch. Shaye's recipe soaks the oats for 24 hours in an acidic medium before baking. Presto! Properly prepared oats for soaked granola.
And granola is back on the menu. Homemade soaked granola, that is!
Shaye (nice girl that she is) kindly allowed me to share her recipe with you. It's as wonderful as any I've made in the past.
So be sure to check out From Scratch, by Shaye Elliott by clicking here.
Homemade Soaked Granola
Print recipe
Ingredients
8 cups organic rolled oats
2 cups filtered water
1 cup butter or coconut oil (melted)
1 cup nuts (your choice)
1/2 cup seeds (sunflower, pumpkin, chia, or flax)
2 cups plain yogurt*
3/4 cups raw honey
1 teaspoon vanilla extract
1 teaspoon almond extract
1 teaspoon sea salt
3 teaspoons cinnamon
1 cup dried fruit (your choice)
Note
*instead of yogurt, you may use an additional 2 cups of water to which you've added 4 Tablespoons of apple cider vinegar, lemon juice, or whey.
Directions
| | |
| --- | --- |
| 1. | Combine the oats, water, coconut oil or butter, nuts, seeds, and yogurt together in a bowl. Stir, pat down and cover. Let sit for 24 hours. |
| 2. | After the soaking period, combine the honey, vanilla extract, almond extract, salt and cinnamon in a small saucepan. Heat gently and stir to combine. |
| 3. | Pour the honey mixture over the soaked oats and stir to combine. |
| 4. | Spread the granola mixture onto a baking sheet lined with parchment paper. Bake at a low setting (170 - 200 degrees) and let it bake until completely dry, stirring and breaking up clumps every so often (this will take anywhere from 12 - 24 hours). Alternately, dry the granola in a dehydrator. After it's dry and cool, add in the dried fruit. Enjoy with delicious raw milk! |
Thank you for visiting Learning And Yearning. May "the LORD bless you and keep you; the LORD make his face shine upon you and be gracious to you; the LORD turn his face toward you and give you peace." Num 6:24-26