This spring, I've committed to going out to forage at least once a week. You can read about that here. This week was easy; I went out to my yard and harvested dandelion greens.
I've eaten a leaf here and there, but this is the first time I've harvested enough for a meal. It won't be the last; we genuinely enjoyed the greens!
Foraging
Dandelion is probably one of the most recognizable plants on the planet. Despite the fact that it is often scorned as a lawn weed, the dandelion is a nutritious powerhouse. It is a source of vitamins A, B, C, and D, as well as minerals such as iron, potassium, and zinc. (Source)
The entire plant is usable; the roots can be dried and used as a coffee substitute, young leaves are eaten raw, or cooked like spinach, and the flowers are often used to make wine.
My friend Kathy grew up harvesting dandelion – both the greens and the flowers. Here's what she has to say about picking and cleaning the greens:
Use a paring knife and cut the plant out of the ground in a circular motion retaining some of the root, keeping the plant intact. To clean it, first pick off dried or dead leaves, grass, weeds, and flowers (I usually try to pick before it's blooming.). Then holding it upside down in my fist, I cut the root off with a little of the leaf stems. I then take the knife and scrape across the cut stems. This brings out any buds, bugs, dirt, etc. Then I toss the cleaned leaves into a sink full of water. When I'm finished cleaning all I've picked, I swish it around in the water and scoop it into a colander to drain it.
Eating Dandelions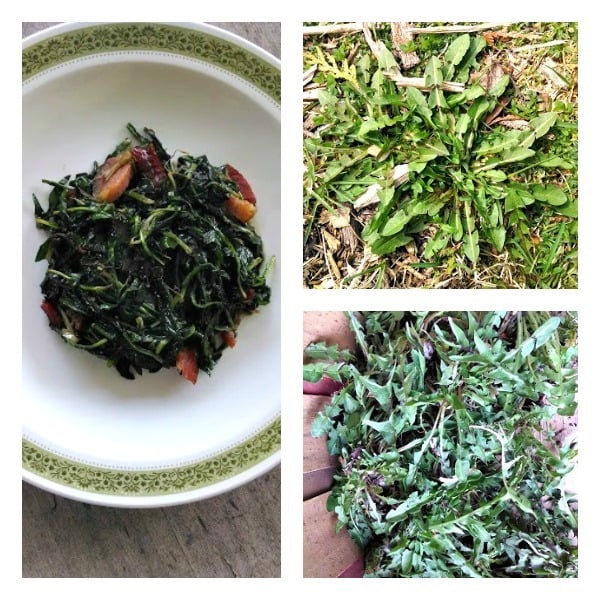 Dandelion leaves may be tossed with other greens in a salad and are considered a digestive aid. We enjoyed them this week simply sautéed in bacon fat. Young dandelion greens are low in oxalic acid, so there's no need to blanch them first. Blanching does help to reduce the bitterness of older leaves.
Here are a few recipes to try:
Greens
Dandelion Greens Salad with Ginger Vinaigrette
Dandelion Greens with Ramps, Bacon and Blue Cheese
Flowers
Roots
Dandelion Killer
Perhaps you wouldn't mind foraging for dandelion, but prefer to do that somewhere other than your lawn.  According to the June/July 2013 issue of  Organic Gardening Magazine:
The dandelion, at once the most hated and nutritious weed of all, is a bio-accumulator with a deep taproot that draws calcium to the surface. … If the lawn's topsoil has plenty of calcium, dandelions are less likely to take root there. Ten pounds of high-calcium limestone, gypsum, or wood ash per 1,000 square feet can often make up for a calcium deficiency.
So, instead of looking for a dandelion killer, why not try adding more calcium to your lawn?
More Than Weeds
 A Foraging eCourse for Beginners
Are you interested in foraging, but a bit hesitant because you don't trust your own abilities? I created a mini eCourse just for you. In More Than Weeds: 5 Common Plants to Forage for Food and Medicine you'll learn that identifying plants is all in the details.
Using common plants with which may be someone familiar you'll learn beginner botany skills that you will be able to use as you move forward. You'll gain confidence to use these plants for your family in food and safe, home remedies. Get started now!
Thank you for visiting Learning And Yearning. May "the LORD bless you and keep you; the LORD make his face shine upon you and be gracious to you; the LORD turn his face toward you and give you peace." Num 6:24-26