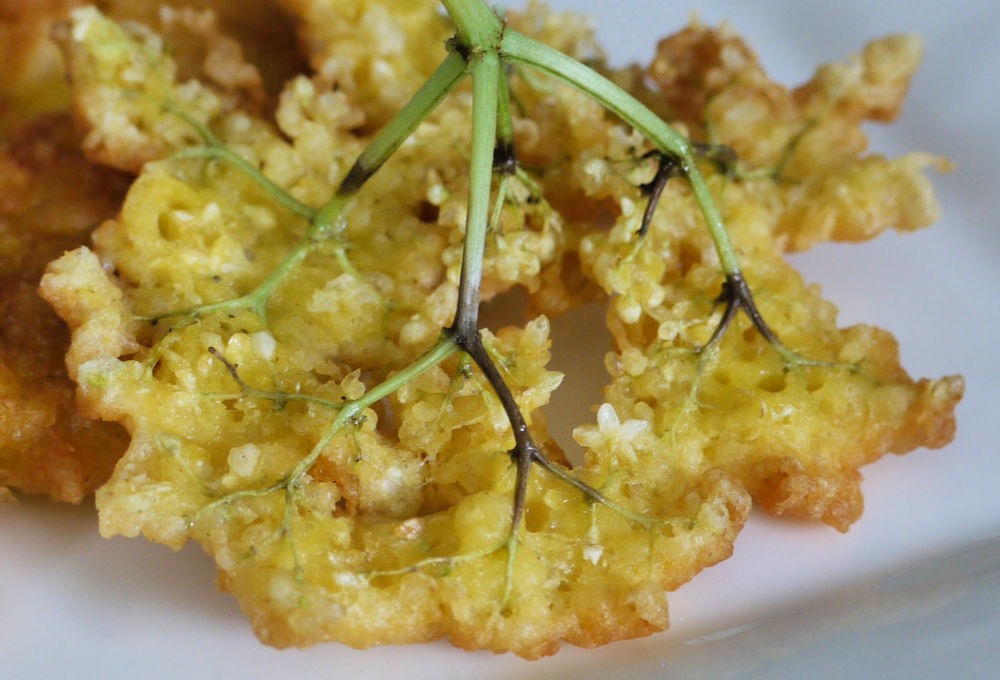 If you're looking for a good patch of elderberries to forage, look for them while they are in bloom – they are so easy to spot as you drive down the road. For us in NE PA, that would be mid-June.
DISCLOSURE: In order for me to pay my blogging expenses, I may receive monetary compensation for my endorsement and/or link to products mentioned on this blog. As an Amazon Associate I earn from qualifying purchases.
Come late August, we'll be foraging elderberries to dehydrate for elderberry syrup to fight colds and flu, for pie and jelly, and for wine and liqueur.
The flowers are edible, too, and they are so prolific, that there's no need to worry that you'll be reducing the number of berries available later on. There's plenty, so enjoy them now by making homemade elderflower fritters!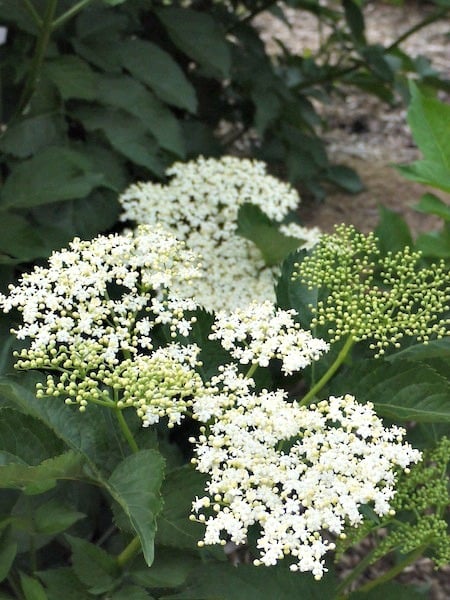 Homemade Elderflower Fritters
A great way to enjoy the foraged flowers is to make crispy, crunchy, elderflower fritters. Dip the flowers in your favorite crepe recipe, or use my recipe below, and fry them up for a wonderful treat! They are extra yummy served with maple syrup.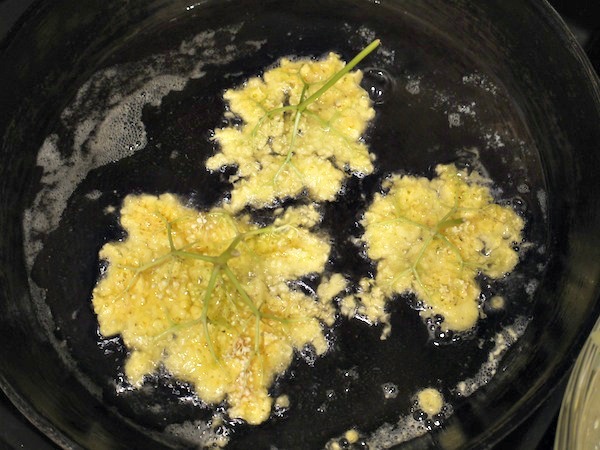 I fry my elderflower fritters while they are still on the stem, but then, using scissors, I  snip off the stems before eating. They should not be eaten as they could potentially cause stomach upset.
Do you harvest elder flowers? What's your favorite way to use them?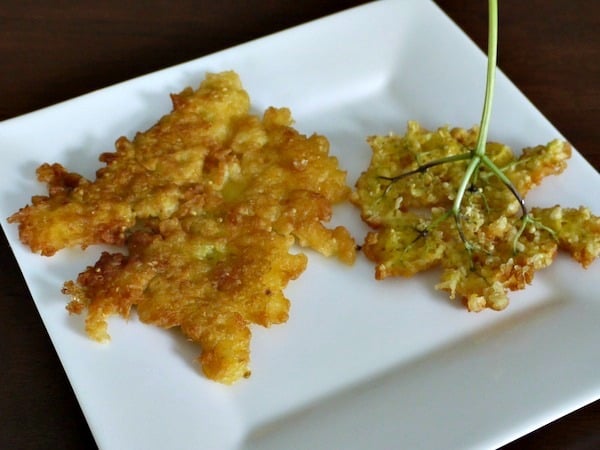 More Than Weeds
 A Foraging eCourse for Beginners
Are you interested in foraging, but a bit hesitant because you don't trust your own abilities? I created a mini eCourse just for you. In More Than Weeds: 5 Common Plants to Forage for Food and Medicine you'll learn that identifying plants is all in the details.
Using common plants with which may be someone familiar you'll learn beginner botany skills that you will be able to use as you move forward. You'll gain confidence to use these plants for your family in food and safe, home remedies. Get started now!
Elderflower Fritters
Print recipe
Ingredients
12 Medium elderflowers (with stems)
3/4 cups unbleached organic flour*
1/4 teaspoon baking powder
1/4 teaspoon sea salt
1 cup milk
1 tablespoon melted butter
1/4 teaspoon vanilla extract
1 egg
tallow, lard, or other fat which can withstand the high heat of deep frying
Note
* I generally use sprouted wheat flour in my baking, but wanted a finer flour for this recipe.
Directions
| | |
| --- | --- |
| 1. | Heat tallow or lard in a heavy pot over medium high heat. You'll need approximately 1/2" of fat in the bottom of the pot. |
| 2. | Mix together the flour, baking powder and sea salt. |
| 3. | Stir in the milk, melted butter, vanilla extract and egg. Beat until smooth. |
| 4. | Holding each elderflower by the stem, dip it in the batter and then place it in the hot oil. Shake it gently to get it to spread out. |
| 5. | Fry, without turning, until golden brown. Repeat for all of the flowers. |
| 6. | Drain on paper towels, or on brown paper. |
| 7. | Using scissors, snip off all of the stems, which should not be eaten as they could potentially cause stomach upset. |
| 8. | If desired, serve with maple syrup. |
Here's how to render lard or tallow for frying your elderflower fritters.
More Posts on Elderberry
Homemade Low Sugar Elderberry Jelly
Supercharge Your Elderberry Syrup
How to Use Elderberry to Make a Tincture or a Liqueur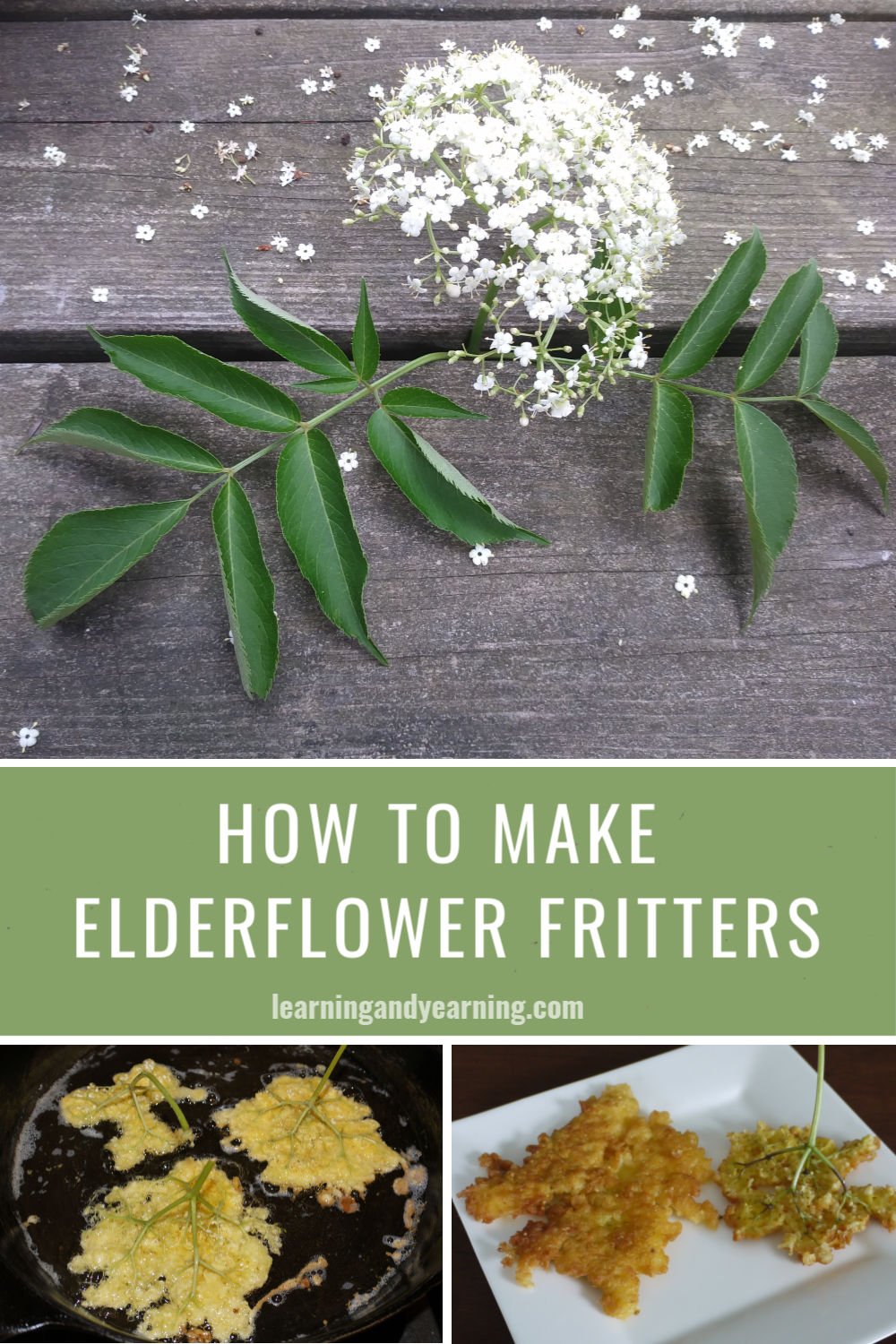 Thank you for visiting Learning And Yearning. May "the LORD bless you and keep you; the LORD make his face shine upon you and be gracious to you; the LORD turn his face toward you and give you peace." Num 6:24-26