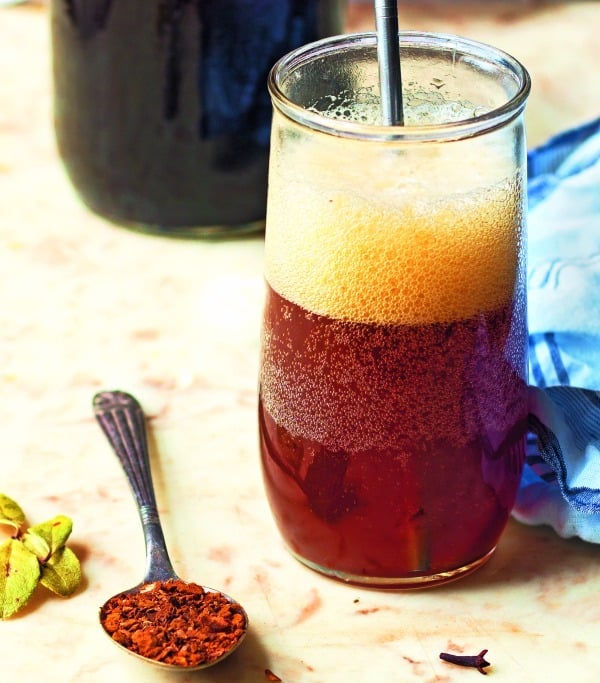 Refreshing Fermented Sodas
There's something about a hot summer day that says soda, don't you think? For me, it's the childhood memory of Sundays at the lake with friends and cousins, sipping root beer, that makes me crave that taste. Soda is not a part of my diet anymore, unless it's a refreshing fermented soda like homemade root beer.
We played a lot in the woods at the lake and, as I've mentioned in other posts, that's where I fell in love with plants. What I didn't know back then was that I would be foraging two of those plants in the very same woods for homemade root beer syrup.
DISCLOSURE: In order for me to pay my blogging expenses, I may receive monetary compensation for my endorsement and/or link to products mentioned on this blog. As an Amazon Associate I earn from qualifying purchases.
That's because I recently received Shannon Stonger's new cookbook, Traditionally Fermented Foods. It didn't take me long to discover her recipe for root beer syrup that is used to make fermented sodas. I couldn't wait to try it since it used two favorites from those woods – sassafras and wintergreen!
Foraging or Purchasing the Ingredients
The area around our mountain lake is covered in both sassafras and wintergreen, but neither of those plants are particularly easy to find elsewhere in our area. The range for both plants is the eastern U.S.
But that doesn't mean that you are out of luck if you want to make homemade root beer syrup, and sassafras and wintergreen don't grow in your area. They are both available for purchase online.
Sassafras Root
Sassafras albidum is easy to identify by its aromatic leaves which are unique in that they come in three shapes, usually all on the same tree. You will find a mitten shaped leaf, a 3-lobed leaf (sometimes described as a dinosaur footprint), and a leaf with no lobes.
This deciduous tree can grow as tall as 115 feet, but in the higher elevation where I find it, it's rare to see a tree over 30 feet tall. Dozens of saplings are usually found growing in the woods at the base of a larger tree and these are what I dig to make homemade root beer syrup.
Only a few saplings are needed – be sure to leave plenty to grow for future years. It can be dug at any time of year, but is strongest in the early spring. Smell the root – if it smells like root beer, you definitely have sassafras.
After digging your root, clean it well with a brush and water, and chop into smaller pieces to use in the recipe. You'll need a half cup for the root beer syrup.
If you are unable to forage sassafras root, it may also be purchased here.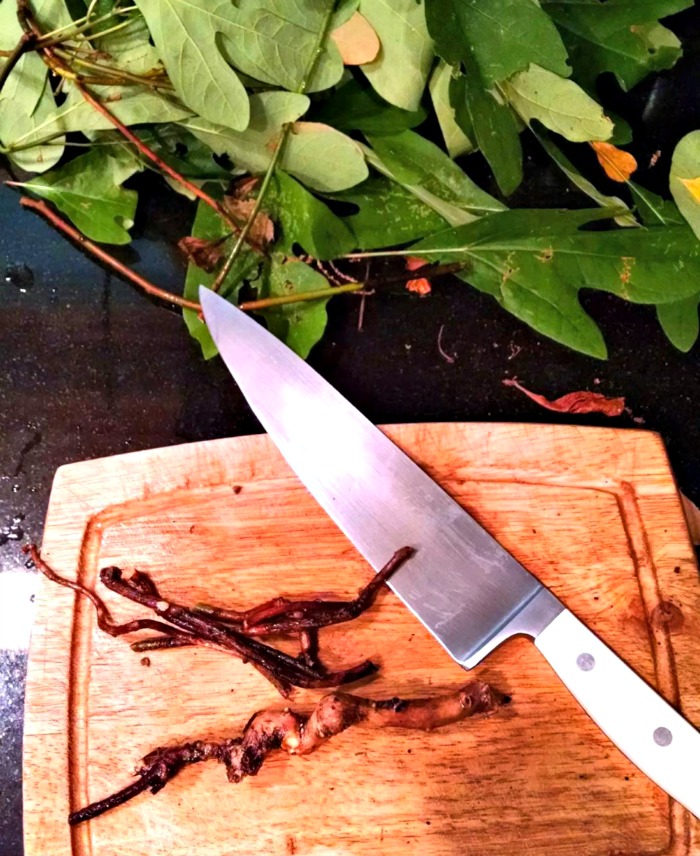 A word of warning: when I was a young child, commercial root beer was still made with sassafras root. At some point in the '60s, the FDA banned sassafras for human consumption because it contained safrole which is considered a possible carcinogen. Interestingly enough, safrole is also found in cinnamon, nutmeg, and basil. Do your own research and decide for yourself if you wish to use it. You'll notice that the sassafras root sold here is labeled "Not for food use."
Wintergreen
Gaultheria procumbens is a low growing, perennial evergreen which can be foraged year round. It prefers mountainous woodlands with dappled sun, but will grow in full sun.
Wintergreen's elliptical, shiny leaves are about 2″ long. Crush one and breathe in the wonderful minty aroma. It is a sure sign that you have found wintergreen. Also known as teaberry, wintergreen produces a small red berry at the end of summer. Plants grown with more sun generally produce more berries, and its leaves may be red.
It is the leaves that are needed to make this recipe for homemade root beer syrup. Harvest and allow to dry for several days.
If you are unable to forage wintergreen leaves, they may be purchased here.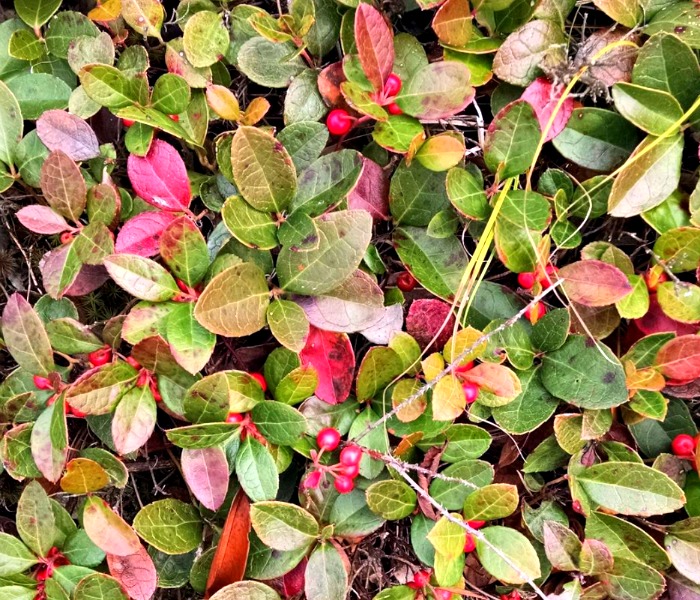 A word of warning: Wintergreen contains methyl salicylate which is similar to the compound in aspirin. Avoid wintergreen if you are allergic to aspirin.
Making and Using Homemade Root Beer Syrup
The recipe from Traditionally Fermented Foods turned out amazing, and the publisher happily gave me permission to re-print it.
My husband wants to put it on ice cream, but I want to save it for fermented soda.
Oh, I know. A root beer float!
Open a bag of dried sassafras root and wintergreen leaf, breath in, and you know immediately where they will take you.
A decoction begins the journey, boiling all of the flavor and goodness of the roots and seeds into the liquid.
Then steep the wintergreen leaves into the decoction to brighten the flavor. Finally, strain and sweeten the homemade root beer syrup, which will last for weeks at room temperature, or for months in the refrigerator.
And then, when your kombucha or water kefir is ready for bottling, add a dash of this syrup to sweeten and flavor the second fermentation. Alternatively, this can be mixed with water and whey for a root beer soda full of both bubbles and enzymes.
A note about the sugar used in the syrup: When making the syrup, quite a bit of sugar is used, but the process of lacto-fermentation uses sugar as food. The longer you ferment your beverage, the more sugar the process consumes.
More Than Weeds
A Foraging eCourse for Beginners
Are you interested in foraging, but a bit hesitant because you don't trust your own abilities? I created a mini eCourse just for you. In More Than Weeds: 5 Common Plants to Forage for Food and Medicine you'll learn that identifying plants is all in the details.
Using common plants with which may be someone familiar you'll learn beginner botany skills that you will be able to use as you move forward. You'll gain confidence to use these plants for your family in food and safe, home remedies. Get started now!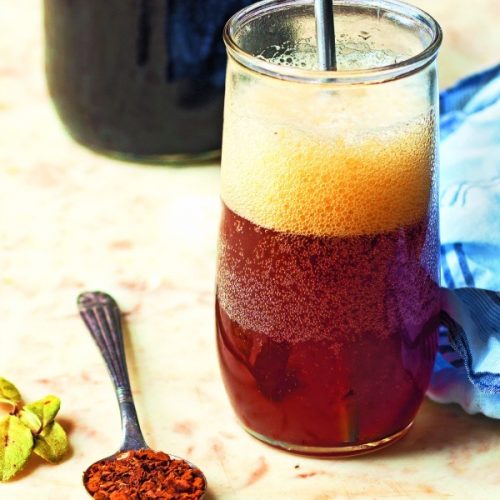 Ingredients
3

cups

water

1/2

cup

sassafras root

1

whole clove

1/2

teaspoon

coriander

cilantro seed

1/2

teaspoon

ground ginger root

2

tablespoons

dried wintergreen leaves

broken

2 1/2

cups

organic cane sugar

2

tablespoons

molasses
Instructions
Make the root decoction: Bring the water to a boil in a small pot. Add the sassafras root, clove, coriander and ginger, and lower the heat. Simmer for 15 minutes.

Steep the tea: Remove the pot from the heat and add the wintergreen leaves. Cover the pot with a lid and leave to steep for 15 more minutes.

Strain and assemble the syrup: Strain the decoction through a fine strainer. Rinse out the pot and return the decoction to the pot. Add the sugar and molasses and bring to a boil. Simmer an additional 5 minutes to concentrate the syrup.

Remove from the heat and allow to cool. Transfer to an airtight container. This syrup will keep for about a month at room temperature, due to the sugar content. It will keep up to 6 months refrigerated.

To serve: Add 1 tablespoon of syrup to a pint of Kombucha or Water Kefir when you bottle them for the second fermentation. To make whey soda: Add 1 cup root beer syrup, and 1/2 cup whey strained from plain yogurt to a 1/2 gallon glass jar. Fill with water, stir until dissolved, and seal with a lid. Allow to ferment for 2 - 6 days depending on the temperature. Transfer to an airtight bottle for a second fermentation of 1 - 3 days. Refrigerate.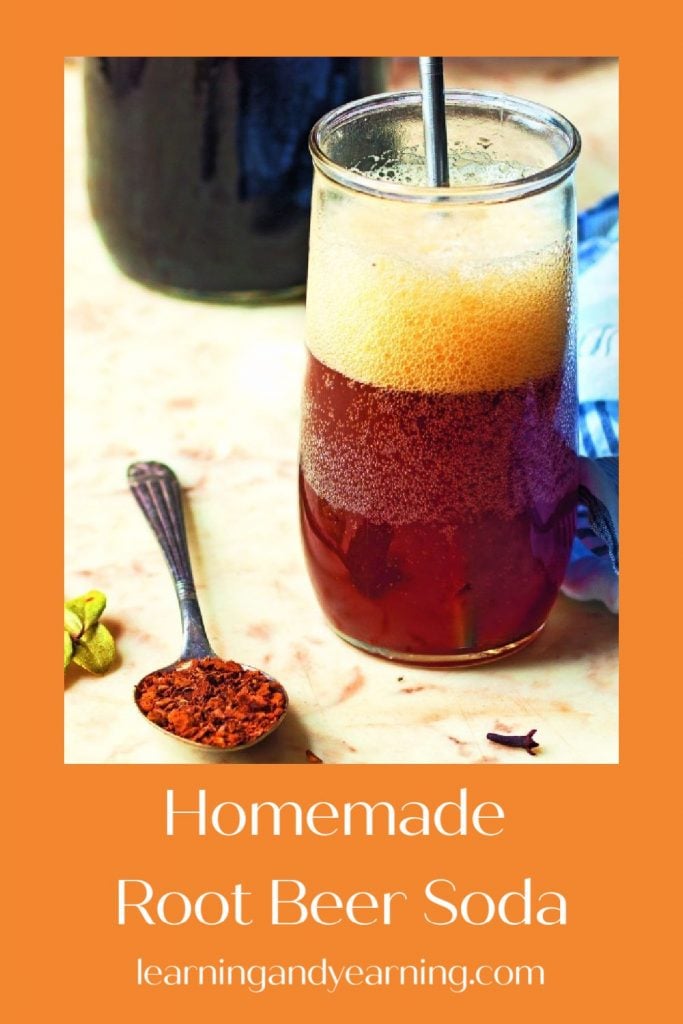 Thank you for visiting Learning And Yearning. May "the LORD bless you and keep you; the LORD make his face shine upon you and be gracious to you; the LORD turn his face toward you and give you peace." Num 6:24-26