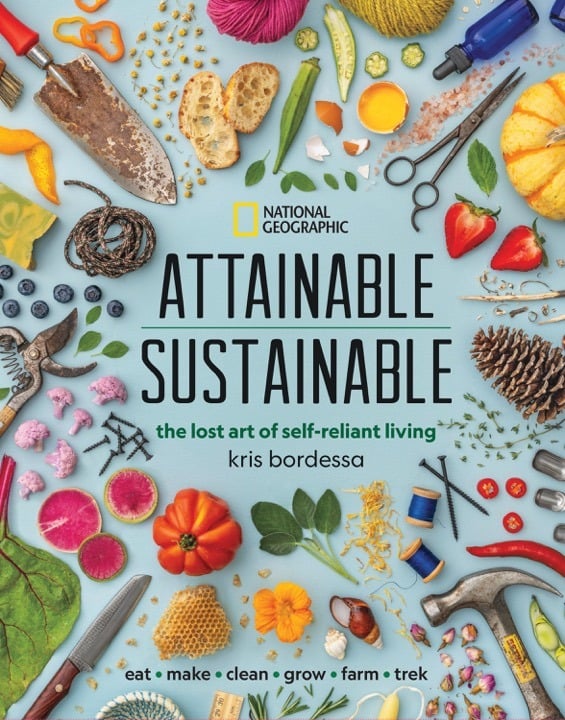 When I was in my late teens and early twenties, I relied on the local public library to feed my insatiable desire for information on self-reliant living. Attainable Sustainable: the Lost Art of Self-Reliant Living by Kris Bordessa was just the type of book I would relish finding, and covet owning.
Actually, this book tops anything I remember finding back in the day (we're talking the 70's here). It's bigger, packed with more information, and is full of amazing color photographs (350 of them). Most of the books I remember finding only contained black and white illustrations.
DISCLOSURE: In order for me to pay my blogging expenses, I may receive monetary compensation for my endorsement and/or link to products mentioned on this blog. I am a participant in the Amazon Services LLC Associates Program, an affiliate advertising program designed to provide a means to earn fees by linking to Amazon.com and affiliated sites.
What You'll Find in Attainable Sustainable: the Lost Art of Self-Reliant Living
This comprehensive, 320 page, hard-cover book is a step-by-step guide to a greener, more sustainable life. You'll find recipes, DIY projects, home remedies, gardening, foraging, and so much more.
The contents are broken down into 6 chapters as in the photo below:
And each chapter is packed full of information. Just to give you an example, here are some of the contents in the first chapter, EAT:
Food Preservation 101
Dehydrating
Canning at Home
Extracting Fruit Juice
Fermentation
Baking Bread
Grains & Legumes
Sourcing Quality Meat
and more
And the chapter CLEAN:
Soapmaking
Skin Care
Medicinal Herbs
Cleaning & Laundry
Household Pest Control
and more
The ends of each page are color coded so that even when the book is closed, you can easily find the section you are looking for. The GROW chapter is green, FARM is orange, CLEAN is blue (see the photo above), etc. I think that's a really nice touch.
So Much More to Learn
And some of the other topics you'll find covered in the book:
Sewing
Waste-Free Food Storage
Basketmaking
Planning a Garden
Natural Weed Control
Greenhouse Growing
Beekeeping
Raising Chickens
Creating an Orchard
Outdoor Cooking
Natural Shelters
Plant Identification
Tapping Trees for Syrup
and I could go on and on!
Seriously, this book has it all. I've barely scratched the surface with all you'll learn here. Can you tell I'm enthusiastic about Attainable Sustainable: the Lost Art of Self-Reliant Living? I honestly give it 5 stars.
My only complaint is that Kris Bordessa didn't write this back in the 70's when I was so eager to learn "all the things". Of, course, Kris would have been a kid at the time, but even back then she was learning to make homemade jam, to grow a garden, and to forage.
And did I mention that Attainable Sustainable: the Lost Art of Self-Reliant Living is published by National Geographic? So, you know it's high quality.
If you've been wanting to make some changes, and learn some new skills, this book will help you to bridge the gap between wanting to learn and actually doing it. Hop on over to Amazon and get yourself a copy.
More Book Reviews From Learning And Yearning
The Farm Girl's Guide to Preserving the Harvest
The Homesteader's Herbal Companion
The Scout's Guide to Wild Edibles
Creating Your Off-Grid Homestead
Free Range Farm Girl: Cooking Grass-Fed Beef
Thank you for visiting Learning And Yearning. May "the LORD bless you and keep you; the LORD make his face shine upon you and be gracious to you; the LORD turn his face toward you and give you peace." Num 6:24-26