Have Fun Growing Pumpkins
Everyone loves a pumpkin, don't they? I can't think of another vegetable that provides as much fun and entertainment as a pumpkin. And if you learn how to grow pumpkins, you'll get to watch the magic all summer long, and save yourself some money come fall. Pumpkins can be quite expensive!
Pumpkins, of course, are not just for fall fun. If you grow the right varieties, they are delicious, too, and perfect for pie and other treats.
Growing Requirements for Pumpkins
Choose a site with full sun for your pumpkins. My post How to Track Shadows So You Can Choose the Best Site for Your Garden gives detailed instructions for learning the sunniest spots on your property.
And they love the type of rich soil that results from building a lasagna style garden.
While we've found a few types of plants that don't love being grown in a garden mulched with wood chips, pumpkins are definitely not one of those plants. Pumpkins love wood chips.
The one thing that pumpkins really require is room to grow. Plan for about 20 – 50 square feet for each pumpkin plant, depending on the variety. Many seed companies will give you this information.
To save space, they may be grown near a fence where they are allowed to sprawl up and over. Growing pumpkins up off the ground also allows good air circulation, but if you are growing a large variety, each pumpkin may need support with netting or even old panty hose.
If your plants do get out of control, pruning is ok to reduce the size of the plant.
For successful growth, pumpkins require about 1″ of water per week. Do your best to keep the leaves of the plant dry as you water to prevent the spread of disease.
Varieties of Pumpkins
Pumpkins come in seemingly endless varieties. They may be orange, white, red, green, blue, or even pink. Smooth or bumpy. Tiny or giant. Great for jack-o-lanterns, or perfect for pie.
When deciding which varieties of pumpkin to grow you'll want to keep two primary things in mind. First, how long is your growing season? And secondly, how do you want to use your pumpkins?
Your growing season is the period between the last frost of winter (or spring) and the first frost of fall (or late summer). To find your growing season length, use this tool to find your frost dates and number of growing days.
As you are browsing through seed catalogs, be sure to note the number of days to maturity for the varieties that interest you, and only choose those which would work for your growing season.
For more information on days to maturity, read my post How to Read a Seed Packet.
When reading descriptions for different pumpkin varieties, note if that pumpkin is a sweet pumpkin suitable for pies, a perfect pumpkin for carving, or a giant pumpkin etc. and choose those that fit your needs.
Growing Pumpkins from Seed
Pumpkins do best when the seed is sown directly in the ground. There is generally no need to start them in pots indoors. The seedlings grow very quickly and if the plant becomes too large, transplanting becomes difficult.
If you live in an area that has a very short growing season, go ahead and start them in pots indoors, but only 2 – 3 weeks before you plan to transplant them outdoors, so that the plants don't become too large.
When and How to Plant Pumpkin Seed
Pumpkins, especially larger varieties, have a fairly long growing season. Wait for the last frost for your area, allow the soil temperature to warm to 70°F, and then get them planted. Pumpkins will not germinate in cold soil.
They are traditionally grown in hills where the soil is piled up into a mound where the seed is planted. Mounding the soil provides good drainage and allows the soil to warm quickly, something that pumpkins love.
Growing pumpkins in rows without hilling is just as fine, especially if warm soil and a long growing season is not a problem in your area.
Place 3 – 4 seeds 1″ deep at least 8′ apart. Your seed should germinate in 7 – 10 days; thin to one plant when they are about 2″ tall.
Mulching Your Plants
Pumpkins love mulch because of its ability to conserve moisture, build soil, and keep weeds at bay. And it also keeps the pumpkins clean and prevents decay as they grow since they aren't in direct contact with the garden soil.
Mulch around the plants with 6″ of hay or straw, or 3″ of ramiel wood chips. Ramiel wood chips include tree leaves and small branches, and makes a fantastic mulch for pumpkins.
Disease Prevention
Stopping disease once it's begun is not an easy task. Disease prevention is always your best bet.
Soil: Building healthy soil should always be a gardener's first priority. No other method is more successful at prevention of disease than providing healthy soil. Once I began using the methods outlined in my eBook, The Art of Gardening: Building Your Soil the health of the plants in my garden went from good to fantastic.
Disease Resistant Pumpkin Varieties: If year after year you find that your area is prone to certain disease, you may want to consider planting a hybrid variety that has been bred to resist that particular disease.
Remove Diseased Plants: At the first sign of disease in your pumpkin plants, remove the affected leaves. Do not compost these leaves, but dispose of them in a way that won't spread the disease.
Crop Rotation: Some disease is soil-borne, so it is best practice to move your pumpkin plants to a new spot each year. Don't plant pumpkins where other squash were planted in previous years since they are members of the same botanical family and are prone to the same disease.
Tools: Be sure to keep the tools you use in the garden clean. They can contribute to the spread of disease. Disinfecting with a 1 part bleach to 5 parts water solution has been found to be the most effective way to kill disease. The tool must be soaked for at least 1 minute, rather than just dunked in the solution. While hydrogen peroxide is a safer product, it has not been found to be as effective in disease prevention.
Watering: As mentioned above, it is always best to water the soil and not the leaves. Disease forms more readily on wet leaves.
Pests
Did you know that a healthy plant is more resistant to pest damage than an unhealthy one? So again, building healthy soil and only planting the strongest seedlings will go a long way in keeping pests at bay. A stressed plant will attract insects!
When insects do attack, hand-picking is often the most efficient way to deal with them.
Insecticidal soaps and neem oil are effective methods of control for many insects.
Harvesting and Curing Pumpkins
It is best to allow your pumpkins to mature on the vine; they are ripe when they turn orange, or the color of your variety. Just like other winter squash, press your nail into the skin to test ripeness. If your nail easily punctures the skin, the squash is not ripe.
Allow the vine to die back, and then cut the pumpkin stem with pruners or a sharp knife, keeping it at least 4″ long. The pumpkin will last longer in storage with a stem attached.
To cure the pumpkins and harden the skin, place them in a sunny location for about a week. Store your pumpkins in a cool, dry area until ready to use.
Saving Seed From Heirloom Varieties For Next Year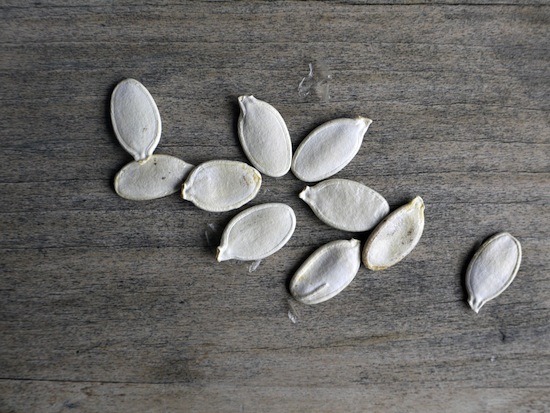 Saving pumpkin seed for next year is an easy process but there are a few things you need to know. Hybrid seeds will not not reproduce true, but will have the characteristic of one parent plant or the other.
It is always best to grow an heirloom or open pollinated variety if you wish to save seed. See my post Heirloom, Hybrid, and GMO Seeds to learn more about different types of seeds.
Another thing to keep in mind is that pumpkins are in the Cucurbit family, and all cucurbits cross-pollinate with each other. So, if you are growing butternut squash, for example, and pumpkins, there is the high likelihood of these plants cross-pollinating. This means that any seeds you save will have genetic material from each variety and will have characteristics of each.
It is recommended that you grow only one variety of squash if you wish to save seed for next year. There are methods that can be used to prevent cross-pollination like putting paper bags over each flower and hand pollinating them, but my preference is to grow many varieties, but not save seed.
If you do choose to save seed, all you need to do is scoop the seeds out of the inside of a pumpkin. Thoroughly wash the seed and then lay them on paper towels to dry. After they are thoroughly dried – in about a week – store them in an envelope in a cool, dry location.
Using Pumpkins
There are probably as many ways to use pumpkins as there are varieties. They are loved as fall decorations, carved for jack-o-lanterns, and made into cakes, cookies, pies and cheesecake.
And since they are a winter squash, they can be used in any savory dish that calls for a winter squash like butternut, acorn, or Hubbard.
The seeds can be saved and roasted for a delicious treat.
They are even used in homemade skin care recipes, soap, art projects, and dog-chews!
I'd love to hear in the comments how you use pumpkins.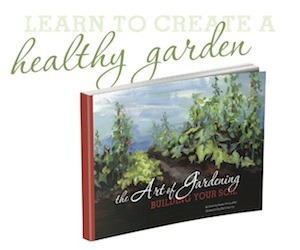 To learn how to build a garden that builds healthy soil, be sure to check out my eBook The Art of Gardening: Building Your Soil.
You really can become a better gardener, and you really can grow healthy, nourishing produce. It's all about the soil! Click here to learn more.
Thank you for visiting Learning And Yearning. May "the LORD bless you and keep you; the LORD make his face shine upon you and be gracious to you; the LORD turn his face toward you and give you peace." Num 6:24-26