Leathery Area on the Blossom End of Tomatoes
Have you ever noticed dry, sunken patches of decay on the blossom end (opposite the stem) of your tomatoes? The spot will be small at first, dark green, and watery. It will eventually turn tan and produce a large, leathery area. Sometimes the lesion will turn black because of the presence of mold. What you have observed is not a disease but a physiological disorder called blossom-end rot.
Lack of Calcium is the Problem
Blossom-end rot is caused by a lack of calcium. It's possible that your soil is lacking calcium, but this disorder also shows up when moisture is inconsistent and although calcium may be present in your soil, it hasn't been available to your plants because of dry conditions.
Blossom-end Rot Can Be Prevented
To prevent blossom-end rot, the first thing you need to do is test your soil. This will determine if, indeed, sufficient amounts of calcium are available. If the soil test shows a lack of calcium, and the ph of your soil is acidic, an application of lime will both raise the ph and provide calcium. If the test shows that your soil is neutral or alkaline, then gypsum should be used to provide calcium without changing the ph.
DISCLOSURE: In order for me to pay my blogging expenses, I may receive monetary compensation for my endorsement and/or link to products mentioned on this blog. I am a participant in the Amazon Services LLC Associates Program, an affiliate advertising program designed to provide a means to earn fees by linking to Amazon.com and affiliated sites.
Secondly, be sure to provide sufficient water for your plants throughout the entire growing season. An inch of water per week is recommended. Do not allow your soil to dry out in between watering. A layer of mulch several inches thick is recommended to keep moisture from evaporating. If you use a hoe to cultivate around your plants, be sure not to damage roots. This can also prevent the uptake of calcium.
Over fertilization can also cause blossom-end rot. Over fertilization can cause rapid growth of the plant and nutrients such as calcium won't be able to keep up with the growth. Soil testing is always recommended before fertilization. And if you concentrate on building soil, fertilization may not be necessary at all.
If blossom-end rot continues to plague your garden, choose varieties of tomato that are resistant. Varieties of tomatoes that produce large fruit tend to be more prone to blossom-end rot, while varieties with smaller fruit are less prone.
Has blossom-end rot been a problem in your garden?
Recommended Reading: The Organic Gardener's Handbook of Natural Pest and Disease Control by Bradley, Ellis, and Martin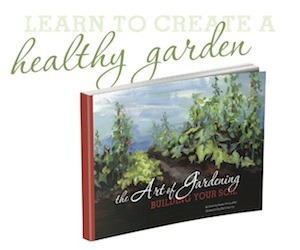 To learn how to build a garden that builds healthy soil, be sure to check out my eBook The Art of Gardening: Building Your Soil. You really can become a better gardener, and you really can grow healthy, nourishing produce. It's all about the soil! Click here to buy now.
Thank you for visiting Learning And Yearning. May "the LORD bless you and keep you; the LORD make his face shine upon you and be gracious to you; the LORD turn his face toward you and give you peace." Num 6:24-26