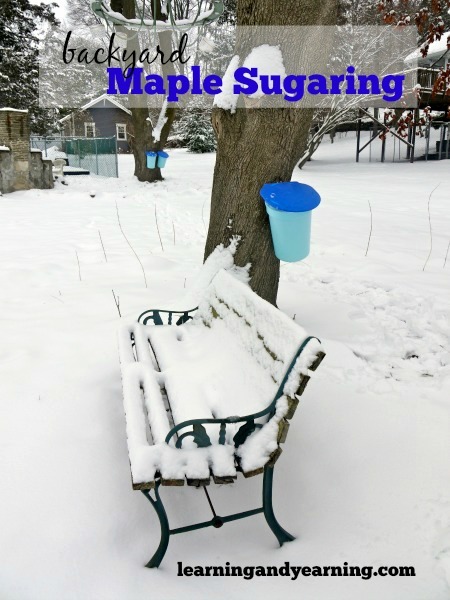 It's as though our yard knew just what we'd need before we ever moved in. Space for a garden. Two black maple trees to tap. And a big ole fireplace for boiling down the sap.
Sugar maples have the most sugar content, and our black maples come in second. But any maple will do. Or black walnut or birch, for that matter.
DISCLOSURE: In order for me to pay my blogging expenses, I may receive monetary compensation for my endorsement and/or link to products mentioned on this blog. I am a participant in the Amazon Services LLC Associates Program, an affiliate advertising program designed to provide a means to earn fees by linking to Amazon.com and affiliated sites.
I love how easy and straightforward this whole process has been. We've been able to scrounge most of what we've needed, and we were gifted the buckets and spiles this past Christmas. This is only our second time tapping and the first time we pretty much scrounged it all.
With only 2 trees to tap, if we had to, we could probably boil it all down inside as long as we opened a window or two to let steam escape. But since we have the fireplace, and plenty of wood, we're enjoying being outdoors this time of year.
We store the sap in buckets on the north side of the house to keep them out of the sun, pack them in snow to keep them cold, and boil once a week. And it's nice, because we keep the neighbors entertained.
If we didn't have the fireplace? Well, I'd beg, borrow or steal a turkey fryer to boil the sap, just like Meredith at Imaginacres does.
Our boiling pan is a stainless steel planter that they were getting rid of where Mike works. Steam table pans would work nicely as well. Or even a few big old pots. My mom was raised during the Depression and if there's one thing she taught me, it's to use what 'cha got.
The weather has been pretty much perfect for the sap to run. Nighttime temperatures below freezing and daytime temperatures in the 40s (F). Perfect temps for hanging out in the backyard, too. And hey, while the fire's roaring, perfect for roasting a hotdog as well. Yep, a grass-fed, organic one.
Once the sap begins to turn an amber color, I move it into a pot and finish it in the house. Just easier for me to control that way.
Have a maple tree or two? Hope you give it a try, 'cause backyard maple sugaring is fun!
For more details on making maple syrup on a small scale, check out these posts:
Making Syrup in Your Own Backyard
Making Maple Syrup in the City
Beyond Maple Syrup: Tapping Black Walnut Trees
Thank you for visiting Learning And Yearning. May "the LORD bless you and keep you; the LORD make his face shine upon you and be gracious to you; the LORD turn his face toward you and give you peace." Num 6:24-26