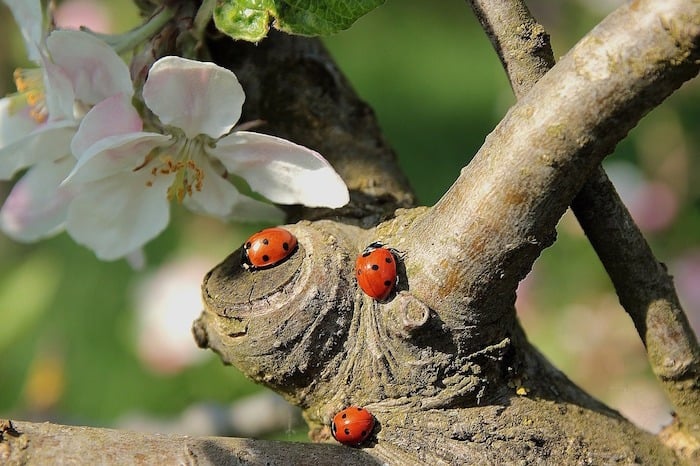 As an organic gardener, your goal is not to eradicate all insects from your garden, but rather to create a natural environment of balance where "good" insects are eating or parasitizing "bad" insects to keep them under control. A great way to do this is to provide plants which attract beneficial insects to your garden.
Common Beneficial Insects and How They Help
Ladybugs, or more technically Lady Beetles, are probably the most easily recognized beneficial insects. They devour aphids.
Lacewings also eat aphids in addition to thrips, mealybugs, scale, moth eggs, smaller caterpillars, and mites.
Trichogramma Wasps are parasitic and lay their eggs in the eggs of garden pests such as cutworms, cabbage loopers, and tomato hornworms. These wasps are tiny and do not sting humans.
Spiders eat insects and help to prevent outbreaks of insects destructive to your garden.
Tachinid Flies help to control gypsy moth, tent caterpillars, Japanese beetles and more. (And, unfortunately, the monarch butterfly).
Beneficial Nematodes are microscopic worms that live in the soil and feed on grubs, maggots and larvae.
Attracting Beneficial Insects to Your Garden
Plants which attract beneficial insects to your garden are known as insectary plants. These plants will attract, shelter, and feed the beneficial insects that you want to attract to your garden.
It's important to provide plants which bloom at different times so that food is always available. Some favorites include dill, mint, lemon balm, clover, calendula, marigolds, sunflower, zinnias, alfalfa, morning glory, fennel, and chamomile.
In addition to providing food, insectary plants provide shelter for your beneficials.
Another consideration when attracting beneficials is to provide a source of water for them. Small garden ponds attract insects, but a bowl filled with pebbles and water will work as well.
Lastly, do not use pesticides in your garden. They not only kill pests but also the beneficial insects that you are trying to attract.
Be sure to see Get Green Be Well's post How to Make a Pocket Pollinator Garden for tips on starting a garden for pollinators, and Homestead Lady's post Ground Cover Plants for Pollinators.
What are you planting in your garden this year to attract beneficial insects?

To learn how to build a garden that builds healthy soil, be sure to check out my eBook
The Art of Gardening: Building Your Soil.
You
really can
become a better gardener, and you
really can
grow healthy, nourishing produce. It's all about the soil!
Click here to buy now.
For further reading:
Thank you for visiting Learning And Yearning. May "the LORD bless you and keep you; the LORD make his face shine upon you and be gracious to you; the LORD turn his face toward you and give you peace." Num 6:24-26