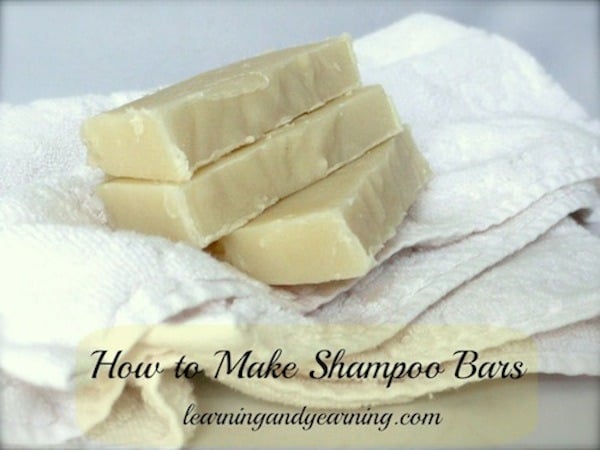 I'm sure you've heard of the no-poo method of shampooing – wash with baking soda and water, rinse with apple cider vinegar. I've heard that for some people it takes an adjustment period where their hair is greasy, but I tried it for a month and it worked perfectly, right from the start. But, oh, I admit it. I really missed suds. I make my own soap, so I checked to see if Handmade Soap: Recipes for Crafting Soap at Home had any shampoo recipes and sure enough, they had a few for shampoo bars.
I made a few adjustments because of sensitivities and made a nice, lathery, sudsy bar of shampoo soap. It contains rosemary oil which is purported to have a number of benefits:
stimulates circulation to the scalp

is anti-bacterial
makes hair shiny
helps to stop hair loss
stimulates hair growth
treats dandruff
soothes itchy scalp
darkens hair
and is good for all hair types
Here are my ingredients for the shampoo bar:
15 ounces distilled water

5.6 ounces lye (why lye is safe)
12 ounces coconut oil
6 ounces palm oil
10 ounces castor oil
8 ounces olive oil
4 ounces jojoba oil (improves hair's texture and appearance)
0.5 ounces rosemary oil (do not add until the soap traces and is ready to be poured into your mold)
For specifics on how to make soap, see my post Basic Soap Making. The shampoo bar is made using the exact same method. Two added benefits of this soap – I find that I do not need conditioner when I use this shampoo bar because of the jojoba oil, and it makes a great body bar as well. So, I hop in the shower and use the same bar to shampoo, condition, and wash.
Do you want to learn more about DIY Natural Skin Care and Cleaning Products? I recommend the following eBooks:
Did you know you can whiten your teeth with activated charcoal? Did you know that talcum powder can cause cancer?Let Mommypotamus teach you her tricks for awesome homemade skincare products that are safe enough to eat. Click here to purchase her eBook DIY Organic Beauty Recipes.
Matt & Betsy Jabs teach you how to easily make DIY cleaners and personal care products that will save you money and improve your family's health. Click here to purchase their eBook DIY Natural Household Cleaners.
The Eczema Cure
by Emily Bartlett, LAc, of Holistic Squid
Emily is a holistic practitioner who cured her daughter's eczema. Learn what causes eczema and other skin disorders, how to clear inflammation and remove triggers, and how to eat to cultivate a strong immune system. Click here to purchase her eBook The Eczema Cure.